The Mach 1 Websites recommended marketing mix for 2022? This means it's time to take stock of the old strategies we used throughout 2022 and weigh them up against new technologies and techniques that have been designed to help our lead generation content clients achieve a competitive edge.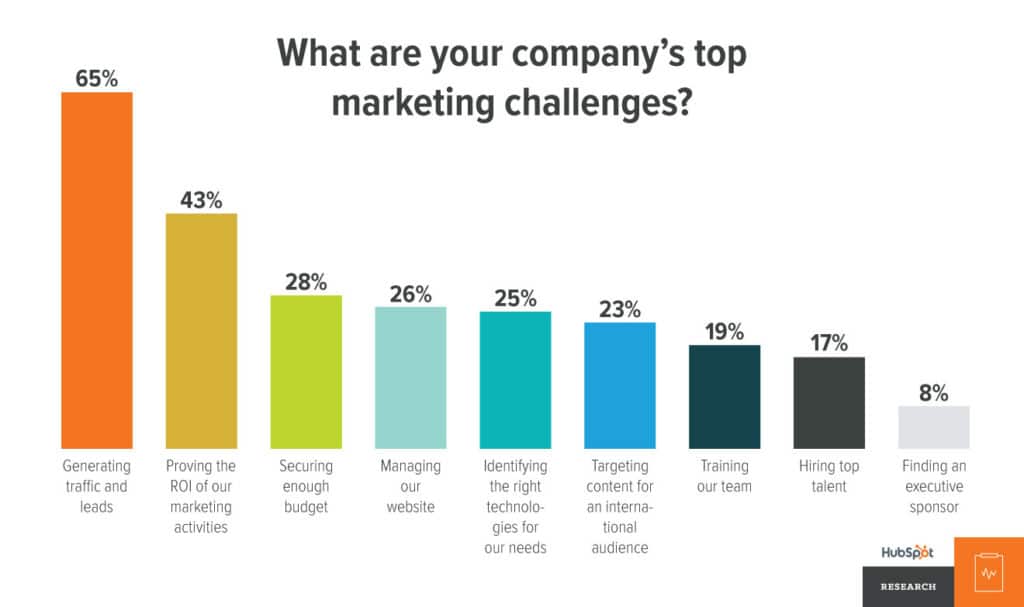 It's time to determine what lead generation activities have recently worked, which ones have fallen short, and what new ideas could be tried in the coming year. There isn't exactly a magic formula for generating more leads, and it's clear that tactics for boosting them can vary between industries; however, it appears that diversifying our efforts in order to attract and convert more customers is absolutely necessary.
That means it's not just about the local SEO or all about social media. It's about assessing how today's most effective lead-generation tools can be effective to improve our team lead generation, conversions, and overall team business.
Our purpose is to strategize for 2022 to adopt the most compelling and dynamic demand generation solutions to generate more leads, and better-quality leads.
Defining and Refining Our Lead Generation Strategies Vision
What's our vision for lead generation in 2022? Sure, we'll probably say "more." Clearly, more leads are a good start, but let's dig deeper. Let's shoot for high-quality leads, leads that are more likely to convert purchases. While defining or refining our vision for lead generation, let's map out a plan.
Let's define our objectives by asking some pertinent questions, like Who is our exact target audience? What types of marketing campaigns do we envision for the upcoming year, and how can we align our lead generation efforts with those campaigns?
Creating a vision for 2022 means outlining our goals and following up with strategies designed to support them. Boosting lead generation isn't just about choosing the right tactics; it's about creating clear and quantifiable goals, making the most of our marketing budget dollars, and directing our staff team and resources in a manner that supports our online lead generation marketing initiatives.
Developing a Strategy for Lead Generation Process Success
Once we've arrived at a clear vision for 2022, can strategize to meet our goals. Let's begin the new year by carefully examining the previous one.
Let's answer these questions: Where did most of our leads originate from? Do we know? For instance, do we have quantifiable numbers that clearly show where our leads came from the previous year? What measures worked last year? What measures fell short? Obviously, we'll want to continue what's worked well and revise what hasn't in order to get the most from our marketing dollars.
We'll want to diversify our efforts to generate more leads. Last year, 68% of B2B companies relied on landing pages, but that's not the only way to win leads.

We should utilize the most effective forms of lead generation and employ more than just one because it's never a great strategy to put 'all our eggs in one basket.' We'll need to determine which ones are likely to be most effective within our industry and which ones Mach 1 Design can afford to purchase.
Lead-Boosting Lead Generation Strategies
The following measures can help us grow our lead pool and, ultimately, our bottom line. Some of these tactics may work better for us than others, so it's up to us to carefully compare them in association with the measures we've used that have worked well and those that have not. As we choose lead generation process strategies to adopt, let's consider what works for our industry—even for our competitors. Investing in the right measures can have a positive effect on our ROI.
Email Marketing Lead Generation Marketing
As of this year, there are roughly 5.6 billion active email accounts. Since about "86% of professionals prefer to use email when communicating for business purposes," it makes sense to include email as a vital part of our marketing campaign. Every $1 spent on email marketing returns $44 in revenue.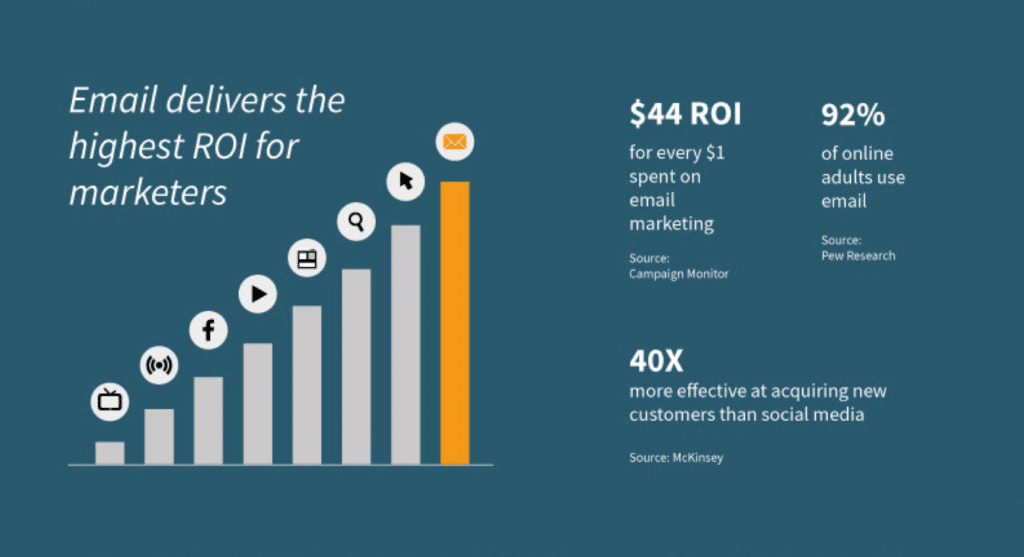 Email marketing is more than two decades old, so it's stood the test of time. However, today, consider employing email marketing for lead generation with a twist—using automated emails augmented by AI and best personalized through customized workflows is where we need to be.
By adopting email automation tools, we can send highly targeted emails that are personalized for our leads. According to eMarketer, "marketers who connect with customers through automated emails see conversion rates as high as 50%."
Additionally, automated emails achieve a 119% higher click rate than other emails like broadcast emails. That's a stat that's hard to ignore if we're unsure about automated email. Because personalized emails are known to generate up to six times more revenue than emails that are non-personalized, it makes fiscal sense to rely on automated & personalized emails for enhanced lead generation.
After all, "79% of top-performing companies have been using marketing automation for three or more years." Mach 1 Design should consider investing in automation processes for our own marketing endeavors. Some great email marketing services are GetResponse, AWeber, and Hubspot — they can help us create the emails and create the best workflows that make sense for us.
Below are some recommendations that must be achieved:
List segmentation
Build out customized workflows that align with sales initiatives
Test different subject lines
Tie in with targeted landing pages
Use as another avenue to drive engagement both with prospects and customers
SEO Lead Generation Tools
We need to ensure that our search engine optimization is up to snuff. Because more than 90% of online experiences start with a search engine, We need to make sure that it can be found via a search engine.
If we are not on page one of Google's search results, we are less likely to be found—and possibly less likely to be found than our competitors. SEO is complex and ever-changing, but, it's essential for Mach 1 Design to consider it when working to attract customers or clients to their business website.
SEO experts work to make sure that Mach 1 Design ranks high in the search engine results. Increased online visibility translates to more leads—and more leads, ideally, lead to more paying customers. I recommend establishing an SEO marketing strategy to help us with our search engine marketing visibility in Google SERPs.
Local SEO
It's no longer enough just to be SEO friendly in general, we've got to be SEO friendly for our local audience. In our market where we work with local businesses, we need to be optimized for our best local audience.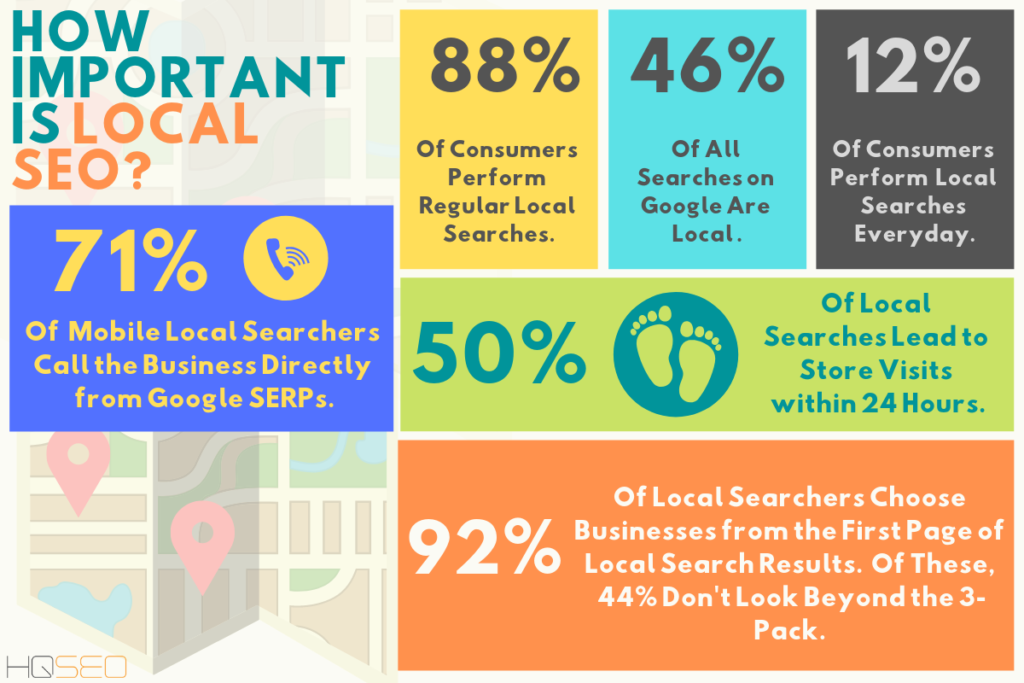 Whether we perform SEO in-house or with the help of contract service, we need to get the local part right so that customers can find us when they search for 'local businesses near me or for our type of business in Chicago and Illinois, also the surrounding region.
When searching online, more than 80% of people look up a location on Google Maps, but if we're not optimized for local SEO searches, we might not be found on a map. As part of our plan for SEO in 2022, we need to be sure to optimize our local SEO to effectively target our local email audience.
Optimize for Mobile
According to Forbes, 57% of all online traffic comes from smartphones and other mobile devices. If we aren't optimized for these mobile devices, we are likely losing leads to companies that are optimized for mobile searches.
Think about our own mobile usage. How long are we willing to wait for a website to load before we click off and visit another site? Businesses are losing customers because they have not optimized their websites for mobile platforms.
Delayed loading times, decreased quality of images, and designs that translate poorly to the mobile platform—these elements can substantially harm our opportunity to convert leads into customers.
Mach 1 Design's rule number one is does our lead generation form load properly on a smartphone? If not, we'll also need to make some key fixes to ensure that we're optimized for mobile users and providing them the high-quality experience they expect.
Services like Instapage and Elementor can be great to create beautiful websites that are also optimized for mobile. If our web design doesn't support mobile, it's time to upgrade to something that does so we don't lose valuable leads.
Forms
Speaking of lead forms, we do have one, right? By adding lead generation forms to the Mach 1 Design website, we can form a lead pipeline that can be directed to our social inbox every single day.
In terms of what types of forms work best for us, that depends on what we want to accomplish. I suggest we experiment with various form styles and ultimately refine one to suit their needs. While there are many lead form generation services available for free today, most require payment.
If we currently rely on Google Analytics, it's a good idea to opt for demo Google Forms because they integrate seamlessly with the social analytics platform and are easy to use.
Magnets
A lead magnet is a compelling item that can help us attract more B2B leads. Think of lead magnets as a piece of qualified content, like an e-book or webinar. In exchange for their email address, allow potential prospects to download these effective lead generation tips content or to access it in some other way. A discount coupon is another form of inbound lead magnet.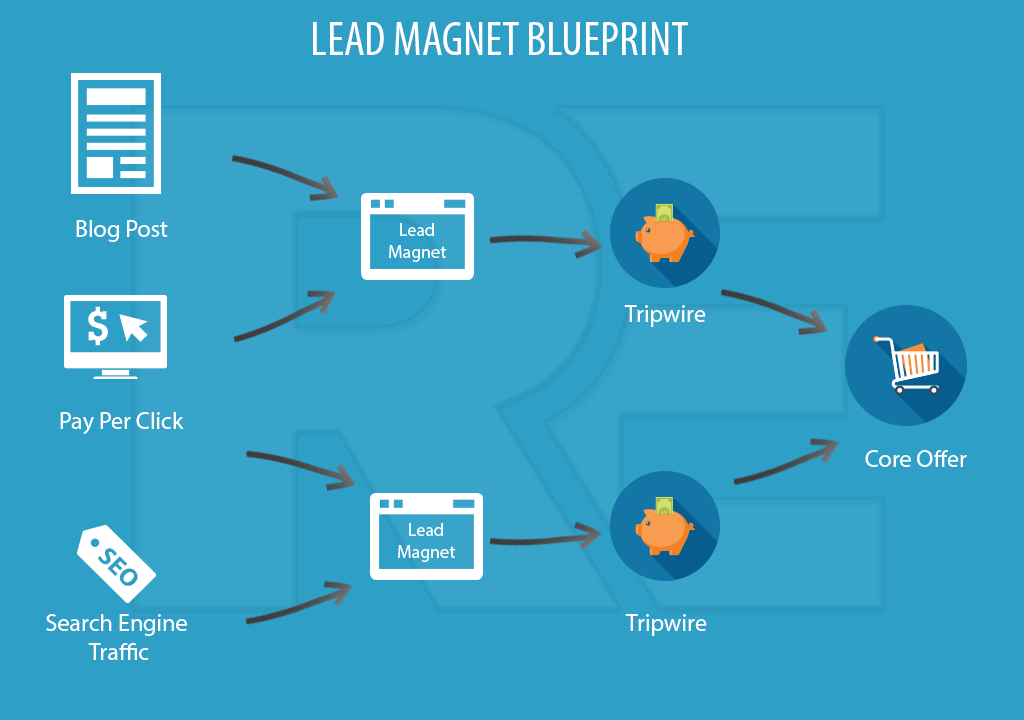 In simple terms, a lead magnet is an exchange, but it's an easy one that many business customers are agreeable to, provided the supplied content or lead magnet is valuable or useful in some way. A high-value demo piece of content is likely to achieve more downloads (and garner more email addresses) and more qualified shares.
Diversify Our Simple Lead Generation Content
Let's take it for granted that we're already on board with the need to produce high-quality thought leader content to promote Mach 1 Design's products and services. High-quality content is crucial for supporting our lead generation tools SEO and for helping us achieve more conversions and prospects.
We need to become active in creating a diverse body of content to promote our brand—not just textual content. We need to use photos, images, videos, and infographics to nurture our leads and convert them into paying landing page customers.
We can increase our revenue substantially simply by adding new content in the form of infographics, question-and-answer blog posts, and videos. According to recent statistics, "85% of B2B marketers say that lead generation is their most important qualified content marketing goal."
Lead generation and content marketing go hand in hand. From blogging to creating SEO-friendly content such as e-books, pillar articles, and tutorial videos, it's vital to support the relationship between our content and lead generation interest.
Social Media
Maintaining an active social media presence is important, although many B2B businesses may still be skeptical about this. But here's the thing to remember, our free lead generation social media content is still content, and it's content that can boost our SEO prospect's results.
As part of our strategy for diverse lead generation, social media should be an element of that plan. In terms of which social media platforms are most important, most experts agree that maintaining a presence on Facebook, LinkedIn, Instagram, YouTube, and Twitter are the most essential, but there may be other social channels that are also relevant to our industry.
If we are having a hard time keeping up with posting on social media, we should look into using a review tool like Hubspot to schedule the posts ahead of time.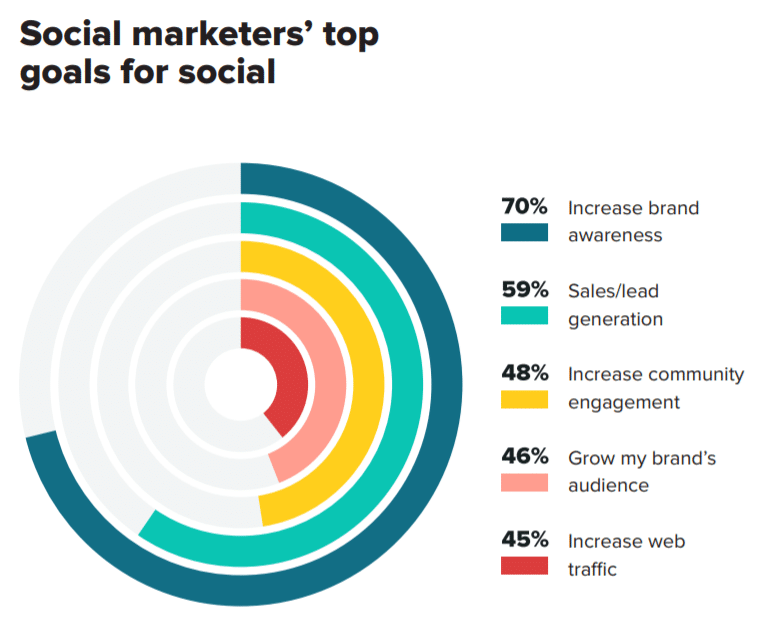 Also, social media, like SEO, is a constantly-changing lead generation strategy landscape. We need to monitor what's going on. Already, many marketing experts are acknowledging that, of these three major landing page social platforms, LinkedIn and YouTube may be the most important for B2B businesses.
Use Analytics—All the Time
We can't ever analyze too much. According to SEO experts, the truth of the matter is, that we're going to wind up wasting a lot of money if we don't take care to analyze our simple lead generation strategies. We must know what measures are working best. What measures are not performing as we expected them to? Performing buyers' credit analytics is how we figure this out. Analytics can tell us what measures work with quantifiable measurements.
For instance, imagine we have five landing pages (and be sure we're using landing pages, as 68% of B2B businesses use them to generate leads successfully). Let's say one is achieving about 75% of the lead generation for the five class combined.
Naturally, we want to continue using the successful landing pages, but what about the other four? As soon as we note that these other pages are performing poorly, we can take steps to refine them. It's important to note where our leads are coming from.
By carefully tuning into our Google Analytics platform or some other measurement platform, we can stay on top of our marketing efforts, which will ultimately make sure we waste less money and become more successful at lead generation techniques.
Paid Advertising
If our SEO is terrific and we're generating website traffic through organic searches at a fantastic growth rate, we might not be overly concerned about paid advertising. However, if we're still developing our SEO strategies and haven't made it into one of Google's 3-pack slots (the first three spots in the search results), we might want to consider paid advertising in order to attract more leads.
We'll find lots of different options when it comes to paid advertising, ranging from Google Ads, Google AdWords to Facebook ads. In addition, some businesses rely on affiliate marketing, and media buys, or might even trade ad space with a non-competitor business.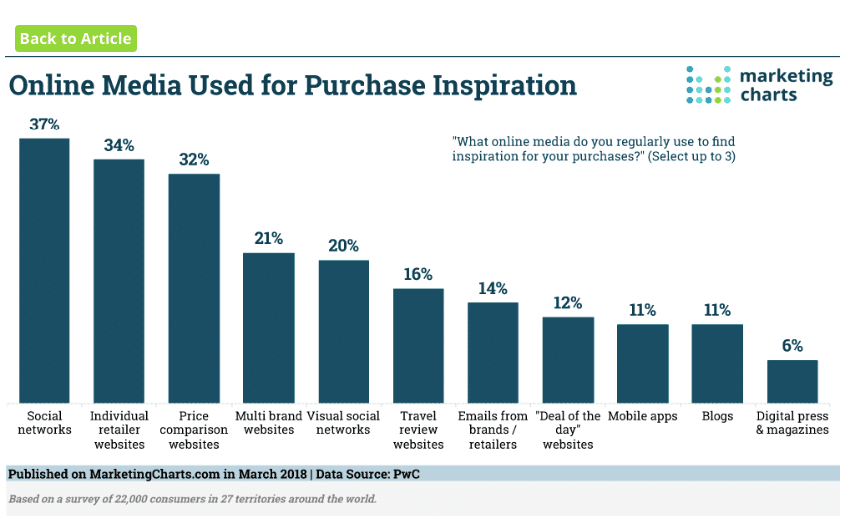 We'll naturally need to consider how much of our budget to devote to paid advertising, but remember this: currently, businesses tend to make about $2 for every $1 they spend with Google AdWords alone.
As we consider our ROI, we'll want to make sure that we wind up getting more than we put in when it comes to this type of lead generation. According to reports, "Digital lead generation advertising spending is seen to hit $201 billion by 2023." In short, our competitors will be investing in paid advertising. So how much will we invest this year compared to the year before
Summary
Lead generation is paramount, and there are lots of different avenues we can take to increase and improve the quality of our leads. Unfortunately, there's no exact formula we can rely on.
Diversifying our marketing strategies and tactics while paying close attention to what works best, can refine our lead generation initiatives so that we will be able to attract more leads and, ultimately, close more sales.
For 2022, let's not rely on past strategies alone for lead generation. Take time to evaluate our past performance and also look to adopt some of the strategies outlined here so we can achieve our marketing and lead generation goals in 2022.
If you need help with a Lead Generation Strategy for 2022, contact [email protected] or call 469-536-8478.