Marketing as a discipline encompasses all of the actions that a company takes to attract and retain customers. Networking with potential or past clients is also a part of the job, and may include writing thank you emails, playing golf with prospective clients, promptly returning phone calls and emails, and meeting with clients for coffee or a meal. Marketing, at its most basic, seeks to match a company's products and services to customers who want access to those products. Ultimately, matching products to a buyer ensures profitability.
What is Marketing?
Marketing refers to the activities that a company engages in to promote the purchase or sale of a product or service to a prospective buyer. Advertising, selling, and delivering products to consumers or other businesses are all part of marketing. Affiliates do some marketing on a company's behalf. Professionals in a corporation's marketing and promotion departments use advertising to capture the attention of key potential audiences. Promotions are aimed at specific demographics and may include celebrity endorsements, memorable phrases or slogans, memorable packaging or graphic designs, and overall media exposure.
Digital Marketing
The use of digital channels to market products and services to consumers is referred to as digital marketing. Websites, mobile devices, social media, search engines, and other similar channels are used in this type of marketing. With the introduction of the internet in the 1990s, digital marketing grew in popularity. Digital marketing employs some of the same principles as traditional marketing and is frequently regarded as a novel way for businesses to approach consumers and comprehend their behavior. Companies' strategies frequently combine traditional and digital marketing approaches.
Marketing Strategy Explained
A strong digital marketing strategy is critical to organizational success in the modern age of business and technology. Companies that thrive in the digital world typically invest heavily in developing digital marketing strategies. Businesses can reach customers across multiple digital platforms as a result, resulting in increased revenue and lower conversion rates. A higher-level definition of marketing strategy is the process of identifying specific marketing objectives. A comprehensive marketing strategy will highlight attainable objectives for both traditional (print, radio, and broadcast) and digital channels. Using established strategies and goals, persuasive marketers will assess various marketing tactics required to achieve those strategic goals.
Digital Marketing Strategy
A digital marketing strategy entails assessing specific goals that can be achieved through online channels. A well-executed digital marketing strategy can be critical to organizational success in an era when many consumers transact business on their mobile devices.
In this context, it is critical to conduct an audit of an organization's media assets. A digital marketing strategy will ultimately seek to maximize the impact of owned, paid, and earned media in the digital world. As a result, these strategies will cover a wide range of channels and approaches, including website content and blogs, as well as online advertising, testimonials, and reviews. At the end of the day, a digital marketing strategy will differ depending on the type of business and industry.
Why is a Marketing Strategy Important?
Marketing results do not occur by chance. Developing a strategy ensures that businesses are targeting the right people with content that is relevant to them. The more time they spend developing a clear strategy, the more opportunities to sell you will create. Simply put, a marketing strategy outlines a company's objectives, including who its ideal customers are and how they intend to reach them. It is their strategy and the blueprint for the marketing activity that they will undertake in the coming months and years to help their business grow. Many business owners are unaware of the significance of a marketing strategy. Having a marketing strategy is so beneficial that it can be compared to having a road map (or a cheat sheet). It will advise you on almost every business decision you make.
Digital marketing is on the rise, surpassing traditional marketing spending for the first time since 2019. This is because consumers are increasingly present on online channels. With the increased use of technology, digital marketing platforms have become indispensable in the world of digital marketing. In contrast to traditional marketing methods, which must be planned and placed well in advance, technological advancements such as AI and machine learning provide marketers with the marketing technology they need to reach consumers on digital devices at just the right moment. Facebook, Instagram, Tik Tok, and blogs have now dominated the digital marketing space.
Why Do We Need a Marketing Plan Template?
A digital marketing plan is necessary because it provides a consistent foundation for your work and holds you accountable. What you need to do may be in your head, but writing it down and defining it commits you to carry it out. A marketing plan template provides you with something to show those involved in your marketing activity to help them understand your company and its target audience. It is a structured document that outlines your company's purpose, goals, and what sets it apart from the competition. It explains who your customers are and why they use your products and services. Your strategy provides a clear framework for reaching this target audience, including information on planned activities and communication methods.
Challenges to Digital Marketing
Managing digital marketing presents unique challenges to those who practice it. Digital channels are rapidly proliferating, and digital marketers must keep up with how these channels work, how receivers use them, and how to use these channels to effectively market their products or services. Because receivers are increasingly inundated with competing advertisements, it is becoming more difficult to capture their attention. It is also difficult for digital marketers to analyze the massive amounts of data they collect and then use this information in new marketing efforts. The difficulty of effectively capturing and utilizing data highlights the fact that digital marketing necessitates a marketing approach based on a thorough understanding of consumer behavior.
Digital Marketing Strategies
Digital marketing is essential in today's online world. It is one of the best ways to grow your business, regardless of industry or company size. However, to grow your business and revenue, you must have the best digital marketing approaches on your side. Which strategies, however, are best for your company and still relevant to consumers today?
A digital marketing strategy is a plan that details how your company will achieve its marketing objectives through online channels such as search and social media. Most strategy plans will outline which online channels and marketing tactics you intend to employ, as well as how much money you intend to invest in these channels and tactics. A social media campaign that includes partnerships with teams of influencers, a content marketing strategy that uses online guides to drive leads, or a growth marketing strategy that uses social media and email to build customer loyalty are all examples of digital marketing approaches. Take the following steps provided below for an effective digital marketing strategy:
To start your digital marketing strategy, outline or use your brand guidelines to define and program your brand and how it will appear in your online campaigns. Consider your unique selling propositions (USPs), brand voice, and value proposition.
Create buyer personas by determining who your company wants to reach out to with custom buyer personas. Consider user demographics as well as the reasons why people choose your company or business.
Create your S.M.A.R.T. goals. To guide your strategy, use specific, measurable, achievable, realistic, and timely goals (also known as S.M.A.R.T. goals). Consider your organization's short- and long-term growth objectives.
Select the best strategies for your company. Focus on techniques that add the most value to your company and industry, rather than trendy strategies.
Investigate digital marketing pricing to create a reasonable budget for your company. By planning your strategy, you can guide it to success. Determine your ad spend if you're advertising.
Create a content calendar if you're going to be publishing content. Following your planning, roll out your campaigns across multiple channels.
Ensure that all of your channels contain the necessary tracking information.
Tracking the performance of your strategies allows you to monitor and measure their effectiveness. Google tools such as Google Analytics, Google Search Console, and Google Ads can help you keep track of your strategies and their return on investment (ROI).
Your company can launch its first online marketing strategy by following these eight steps.
Digital Marketing Tactics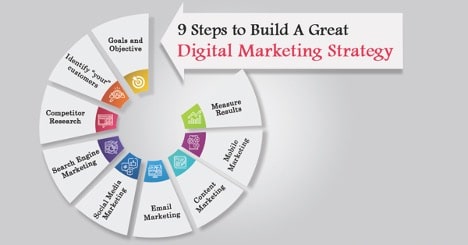 There are numerous marketing tactics available, which are frequently adjusted to meet and guide the varying organizational goals and marketing strategies. However, there are several common digital marketing tactics or factors that many businesses use as a guide successfully, including:
SEO (Search Engine Optimization)
SEO (search engine optimization) is the practice of optimizing content to improve rankings in major search engines. Teams can better reach prospective customers through major search engines by following established SEO practices with all digital content that undergoes optimization. Search engine optimization, or SEO, is a method for businesses to increase traffic through search engines to push their websites and names to the top of any search results page. This program can be accomplished through organic or editorial search results. When businesses successfully implement such optimization in their online marketing approaches, their names and websites become more visible to more consumers.
Affiliate
Affiliate marketing is one of the oldest forms of marketing, and the internet has given it new life. Influencers use affiliate marketing to promote other people's products and earn a commission for each sale or lead introduced. Many well-known companies, such as Amazon, have affiliate programs that pay out millions of dollars to websites that sell their products.
Video or Media
YouTube is one of the world's most popular search engines. Many users turn to YouTube before making a purchasing decision, to learn something, read a review, or simply unwind. To run a video campaign, you can use a variety of video marketing platforms, including Facebook Videos, Instagram, and even TikTok. Companies that integrate video with SEO, content marketing, and larger social media marketing campaigns have the most success.
Social Media Marketing (SMM)
SMM is the practice of reaching out to customers and communicating corporate data or messaging through social media networks. Businesses that effectively use SMM tactics can reach out to customers directly through their preferred social media channel. A social media marketing campaign's primary goal is to raise brand awareness and build social trust. As you progress in SMM, you will be able to use all gathered data to generate leads and even as a direct sales channel. This includes things like promoted posts and tweets. Effective SMM often uses customer relationship management (CRM), which is a technology that allows you to manage all of your company's relationships and interactions with current and prospective customers. The goal is straightforward: improve business relationships to grow your company.
Digital Advertising
It is the placement of company advertisements in various online locations, such as search engines and social media networks. Digital advertising includes paid placement in search results and pop-up ads.
Pay-Per-Click (PPC) Advertising
PPC advertising is a type of digital advertising in which businesses place advertisements on third-party websites to drive online traffic data. Companies, however, only pay for pay-per-click advertising when a user clicks on the link, as opposed to other forms of advertising. Pay-per-click advertising allows marketers to reach Internet users on a variety of digital platforms by displaying paid advertisements. Marketers can create pay-per-click campaigns on Google, Bing, LinkedIn, Twitter, Pinterest, or Facebook to display ads to people searching for terms related to their products or services. These campaigns can segment users based on demographic characteristics (such as age or gender), or they can target users based on their specific interests or location. Google Ads and Facebook Ads are the most popular PPC platforms.
Digital Marketing Content
Content marketing is the practice of targeting prospective customers through a company's owned media channels. Companies that regularly create and publish high-quality content can help improve rankings and drive traffic to their website. The goal of content marketing is to reach out to potential customers by using content. Typically, content is published on a website and then promoted via social media, email marketing, search engine optimization, or even PPC campaigns. Blogs, ebooks, online courses, infographics, podcasts, and webinars are examples of content marketing tools.
Website
A company's website is a very powerful tool in the realm of content marketing. An organization can become a thought leader in its industry and attract potential customers with effective call-to-action messaging by creating geo-targeted and optimized landing pages. All digital marketing activities revolve around website development. It is a very powerful channel in and of itself, but it is also the medium required to carry out a variety of online marketing campaigns. A website should clearly and memorable represent a brand, product, or service. It should be fast, mobile-friendly, and easy to use.
Email Strategy
It is used to increase engagement with an existing or prospective audience base or to strengthen customer relationships. Email marketing is a powerful tool with a track record of success.  Email marketing is still one of the most effective channels for digital marketing. Many people associate email marketing with spam email messages, but this is not the case. This type of marketing allows businesses to reach out to potential customers and anyone interested in their products. Many digital marketers use all other digital marketing channels to acquire leads for their email lists, and then use email marketing to convert those leads into customers.
Downloadable Content
A subset of website strategy, downloadable content is an effective method of generating leads. Companies can create high-quality content that prospects can download for free while also providing valuable contact information.
SMS Messaging
Companies and nonprofit organizations use SMS or text messages to inform customers about new promotions or to provide opportunities to interested customers. SMS message campaigns are also used by political candidates running for office to spread positive information about their platforms. As technology has advanced, many text-to-give campaigns now allow customers to pay or donate directly via text message.
Taken as a whole, there are numerous marketing tactics that businesses use every day. Successful marketers can identify goals and then select appropriate tactics to achieve those goals, all while keeping an eye on overall strategy, business needs, and budget constraints.
Digital Marketing Requirements
Companies were forced to change their online marketing approaches as technology advanced and new trends emerged. In the early days of digital marketing, email was a popular marketing tool. That emphasis shifted to search engines like Netscape, which enabled businesses to tag and keyword stuff to get noticed. Companies can now track data to cater to consumer trends thanks to the development of social networking sites such as Facebook. Smartphones and other digital devices are making it easier for businesses to market themselves, as well as their products and services, to consumers. According to studies, people prefer to access the internet through their phones. As a result, it should come as no surprise that 70% of people make purchasing decisions (usually on their phones) before actually making a purchase.
To effectively tell your product's story to your consumer base, you must be skilled at both writing and communicating. Data analytics skills are required to determine how well your marketing campaigns are performing and where they can be improved. Finally, social media and other online abilities are required.
Effective Digital Marketing Strategy with Mach1websites
Traditional methods were used to carry out some of the world's largest advertising campaigns. However, changes in the way people consume media forced companies to refocus their efforts on having an effective marketing strategy to achieve their digital marketing goals. Digital marketing strategy is now as important as, if not more important than, traditional advertising and marketing tools. And you can expect things to continue to change as technology advances. Digital marketing strategy is more important than ever before. Take steps today to guide, develop, streamline, or optimize your marketing strategy to improve your results in the coming year. Begin your journey with Mach1webistes today. Contact us at [email protected] or call (469) 536-8478.
Articles you might like: