Increase in organic keyword rankings
Increase in website traffic
McKayLawTx.com ranks ahead of all local competitors on page 1 of Google for almost every major search category

McKayLawTx.com  ranks ahead of incumbents in Google featured snippets in Sulphur Springs, TX
Increase in website sessions
Conversions or 96/mo. avg
Lindsey McKay, founded McKay Law Tx in early 2021. Locating the Personal Injury Law practice in Sulphur Springs, TX, Lindsey established a goal to become well known in Sulphur Springs, Tx for personal injury law and to become a recognized personal injury lawyer in East Texas to attract new qualified clients with a focus on car and truck accident victims and mass tort victims. Mrs. McKay contacted Mach 1 Websites for consultation on the most effective way to build the brand of her new law firm in the East Texas market and begin ranking on the first page of Google searches for her chosen practice areas.

Website performance at the time of Mach 1 Websites investigation:
Website Audit:
McKay Law Tx had little internet presence with only a landing page website and received zero web traffic and had zero SEO ranking for organic keywords and phrases. The website did not rank in Google SERPs.
Mach 1 Websites first conducted an existing website audit and a competition analysis of www.McKayLawTx.com.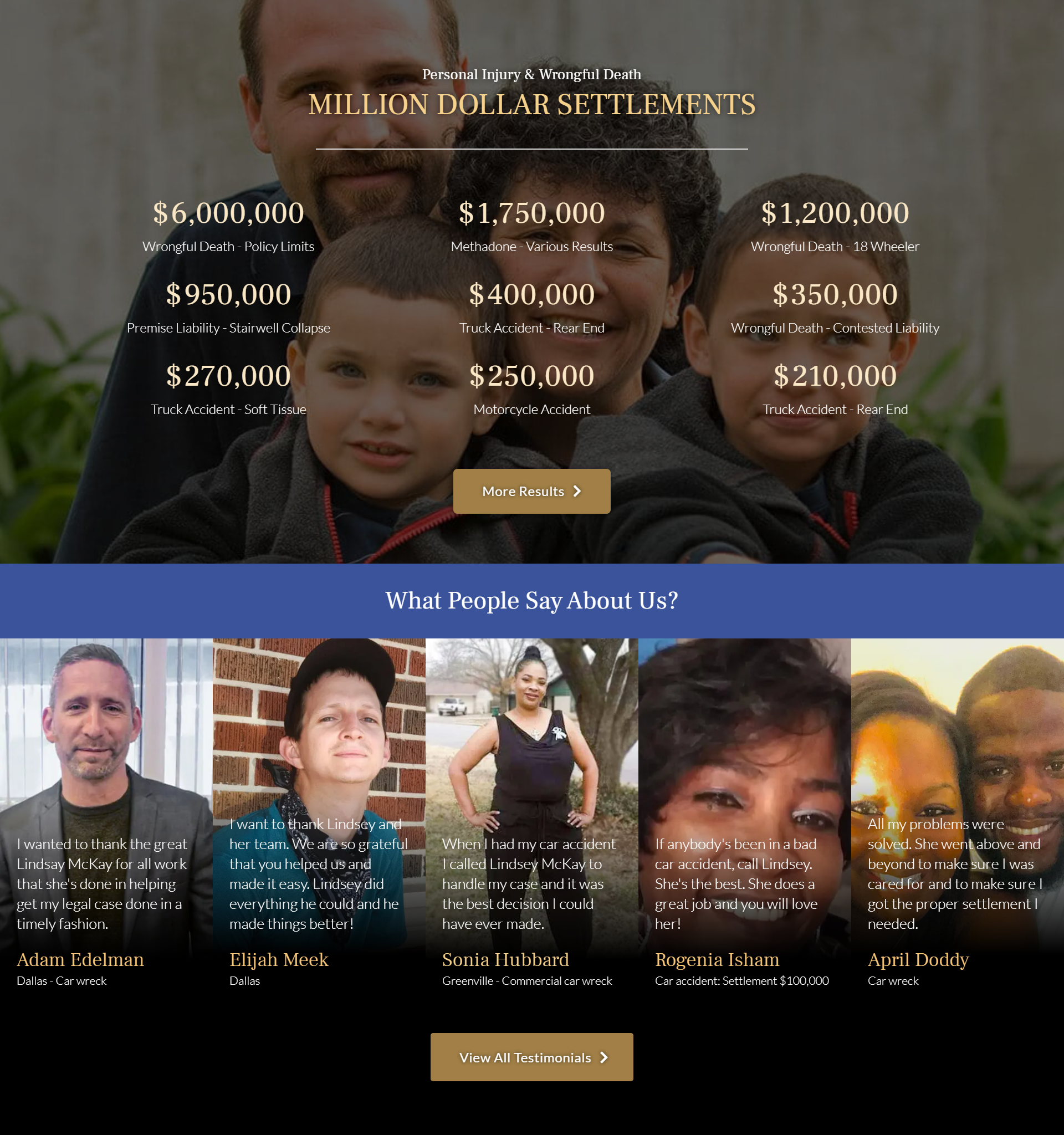 Competition Analysis
We noticed that one of McKay Law's competitors in Sulphur Springs, TX was doing very well and had very little digital platform presence on the internet. As a result of our findings, we looked deeper into the personal injury law firm digital competition in Sulphur Springs and found the opportunity to quickly rank in Google SERPs and reach page 1 of organic searches for personal injury services was very high. We developed a strategy to create a new McKay Law website with high user experience (UX) and we developed a new law practice mission statement and unique value proposition. We further designed client appeal vanity videos and photos, and added website mobile optimization with millennial injured clients as the focus audience.
McKay Law Google reviews were sparse by comparison to the #1 ranking competitor but acceptable, nonetheless. We recommended McKay Law establish an aggressive Google review campaign among existing and past clients and further set up a standard operating policy in the office to obtain Google reviews and client testimonials.
We developed a 100+ page comprehensive Digital Marketing Strategy for McKay Law TX to be funded and executed in 2021 & 2022.
The strategy included:
Phase I- recommended and executed See: www.McKayLawTx.com
Newly designed UX superior high-converting website with updated on-page content,

Mobile Optimized

New mission statement

New Unique Value Proposition

Chatbot for enhanced UX,

Cameo video on the homepage expanded and indexed thought leader content marketing strategy and campaign to earn greater Google organic search visibility and to rank higher in Google searches for the main practice focus areas and principle organic searches

Photos & videos displaying what it feels like to be McKay Law client

Expanded client information with more in-depth client experience information

Expanded practice area descriptions with photos & videos.

Specific focus on Maxillofacial Revision Surgeries for world-wide client appeal & attraction

Expanded Client Testimonials page

Results page for client verdicts and settlement recoveries

Website in English and Spanish

Communities we serve pages for car & truck accidents

Results page for settlement calculator for case value prediction
Phase II–
Google My business account with Google reviews process (now 37 reviews 4.9 star rating)

On-page SEO and page indexing to enhance on-page SEO for better Google ranking in organic search.

New, fresh audience appealing thought leader content focused on client relevant content written, SEO optimized, Indexed, formatted, cross referenced and published to website in English & Spanish (70 articles)

Native video thought leader content SEO optimized and published in website (Work in progress)

Google Ads (PPC) campaign with $6,000.00 per month spend focused on top organic search words and phrases for injured Car & Truck accident victims

AI enhance Robot videos for practice areas and general practice Law firm objective recommendation language

Google certification for Local service ads for McKay Law Tx personal injury services

Social media posting
Results:
Phase I & Phase II of the comprehensive Digital Go-to-Market Plan fully executed except native video production.
The results are astounding! McKay Law Tx new website monthly traffic has increased 2,133 % with 6400 website visitors in the last 90 days via 76% organic search & 67% mobile smart phone generated searches.
The chatbot and email system and telephone calls are producing website visitor conversions. The new website has produced 274 conversions over the last 90 days or 91 per month equaling 3 per day which are generating 17 active new injury cases per month.  
Google (ahrefs) reports McKay Law Tx is currently ranking for 3,426 keywords/Key phrases.  www.McKayLawTx.com now ranks #1 or near the top on page 1 of Car and Truck accident lawyers for almost every town in northeast Texas and in East Texas organic searches. McKay Law recently obtained a substantial Truck accident case and settled the case for $6mm. McKay Law Tx and Lindsey McKay with the help of Mach 1 Websites has accomplished its goal to become one of the most visible and recognizable personal injury law firms in East Texas. Current new personal injury case volume is 204 new cases annually and growing.
Lindsey McKay recently wrote
Amazing! Unbelievable! Harold, You are brilliant! I cannot believe how far we have come in such a short period of time. Our website is ranking on top everywhere in East Texas and we are getting excellent qualified leads and lots of good cases. We booked 17 cases just last month!
Lindsey McKay stated:
Mach 1 Websites did a complete Digital Go-To-Market plan for our firm. Their suggested strategies were spot on! Our web traffic has increased over 500%, we are ranking for over 3500 keywords in Google SERPs and conversions have grown systematically. We are getting more ideal clients through our website and their content marketing strategy is really working. We are ranking on page 1 in almost every search category for our unique value proposition. Five Stars and more!!
Google Analytics:
Since inception:
18,000 website users
21,000 website sessions
853 total conversions
675 phone calls (80%)
178 emails         (20%)
57 conversions per month
Last 90 days:
6400 website users
7300 website sessions
276 total conversions
217 phone calls   (79%)
59 emails             (21%)
92 conversions per month
Last month
2,000 users
2,200 website sessions
99 total conversions
84 phone calls       (85%)
15 emails               (15%)
17 new cases booked