increase in new website traffic
Dr. Larry Wolford, a well-known Baylor Maxillofacial Surgeon of International recognition, and his wife Denise, contacted Mach 1 Website for consultation on the effectiveness of their medical practice website. The website was over seven years old and had not had any updates or thought leader content posted since launch in 2014. The Wolford's indicated the effectiveness of the website had dropped significantly; website traffic was down substantially and known maxillofacial surgery competitors were gaining more new patients. New patient intake was down approximately 25%.  
Website performance at the time of Mach 1 Websites investigation:
Mobile-37%
Desktop-89%
Speed 93%
3.5 K organic keywords
Organic Website Clicks per month 1.0k
We first conducted an existing website audit and a competition analysis of Maxillofacial Surgeons for Dr. Wolford.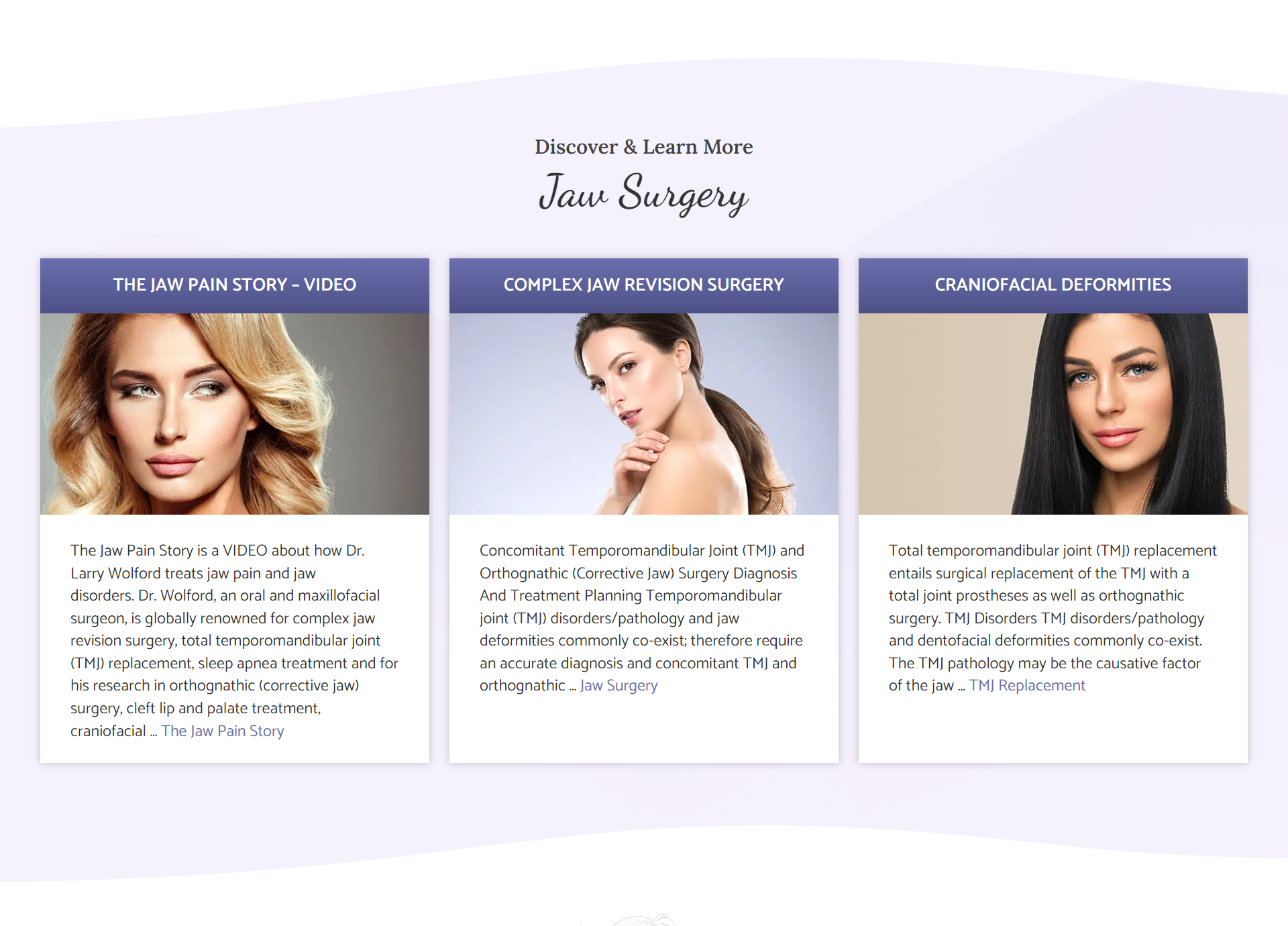 Website Audit:
The existing website was technically sound and organic content was adequate although content indexing was inconsistent. However, user experience in the old website was very low, especially when compared to competitors in the Maxillofacial Surgical marketplace.
Competition Analysis
We noticed that one of Dr. Wolford's Maxillofacial surgeon competitors in Dallas, TX was receiving approximately 1 website click per ranking organic keyword, whereas, Dr. Wolford was receiving only 1 website click to every 3.5 ranking organic keywords. With Dr. Wolford's professional reputation and professional achievements, it did not make sense that a less visible and less noteworthy colleague would receive greater digital visibility and greater website traffic. As a result of our findings, we looked deeper into Dr. Wolford's website user experience (UX) and developed a new practice mission statement, patient appeal vanity videos and photos, and mobile optimization.
Dr. Wolford's Google reviews were sparse by comparison to the #1 ranking competitor but acceptable, nonetheless. We recommended Dr. Wolford establish an aggressive Google review campaign among existing and past patients and further set up a standard operating policy in the office and hospital to obtain Google reviews and patient testimonials.
We developed a 118 page comprehensive Digital Marketing Strategy for Dr. Wolford to be funded and executed in 2022. The strategy included:
Phase I- Completed
Newly designed UX superior high-converting website with updated on-page content,
Mobile Optimized
New mission statement
Chatbot for enhanced UX,
Cameo video on the homepage expanded and indexed thought leader content marketing strategy and campaign to earn greater Google organic search visibility and to rank higher in Google searches for the main practice focus areas and principle organic searches

Vanity Photos & vanity videos displaying what it feels like to be Dr. Wolford's patient

Expanded patient information with more in-depth patient experience information

Expanded surgical procedure descriptions with vanity photos, videos and before & after photos

Specific focus on Maxillofacial Revision Surgeries for world-wide patient appeal & attraction

Referring Physician page

Expanded Patient Testimonials page

Results page before and after surgery photos

Improved UX Blog section with repurposed content and improved appealability of articles and helpful thought leader content
Phase II-Recommended But Not Yet Executed
On-page SEO and page indexing to enhance on-page SEO for better Google ranking in organic search.

New, fresh audience appealing thought leader content focused on patient relevant content written, SEO optimized, Indexed, formatted, cross referenced and published to website

Native video thought leader content SEO optimized and published in website

Google Ads (PPC) campaign with $1,500.00 spend focused on top organic search words and phrases

AI enhance Robot videos for practice areas and general practice objective recommendation language
Results:
Phase I of the comprehensive Digital Go-to-Market Plan was fully executed.
The results are astounding! Dr. Wolford's new website post-launch in the 1st month increased 300% in website visitors and has now sustained 4400 monthly website visitors or a 340% increase in traffic all via organic search. Website clicks to organic keywords ratio is now over 1:1 and ahead of all competitors. 60.3% of all website visitors are now on mobile smartphone devices.
The chatbot and email system are producing website visitor conversions. The new website has produced 254 conversions over the last 90 days or 85 per month equaling 3 per day. 205 new telephone calls and 58 emails from website. Website visitors over the last 90 days are 13k logging 16k sessions. Conversions over the last 90 days is 254 or 85 per month with 198 of those as telephone calls and 56 as emails.
The surgical practice has regained the patient volume it had lost since 2015 or a 25% increase in new patient surgery volume. Google (ahrefs) reports the increased web traffic is valued at $4,000.00 per month or $48,000.00 annually in advertising value. Gross revenue from 25 new surgeries per year is approximately $1mm.
*Dr. Wolford and Denise plan to execute phase II of the digital go-to-market strategy in the next several months.
Denise Wolford recently wrote:
Thank You! So great working with you. Your attitude is so positive and you have given our practice a huge boost! You are a gift!!!
Google Analytics:
Since inception of new website:
18,868 website users a 524.1% increase
18,853 new users
22,729 website sessions
35,000 website pageviews
853 total conversions
675 phone calls
178 emails         
57 conversions per month
Last 90 days:
13,000 website users
16,000 website sessions
263 total conversions
205phone calls   
58 emails             
88 conversions per month
Last month
4,200 users
4,900 website sessions
85 total conversions
68 phone calls       
17 emails               
17 new patients booked